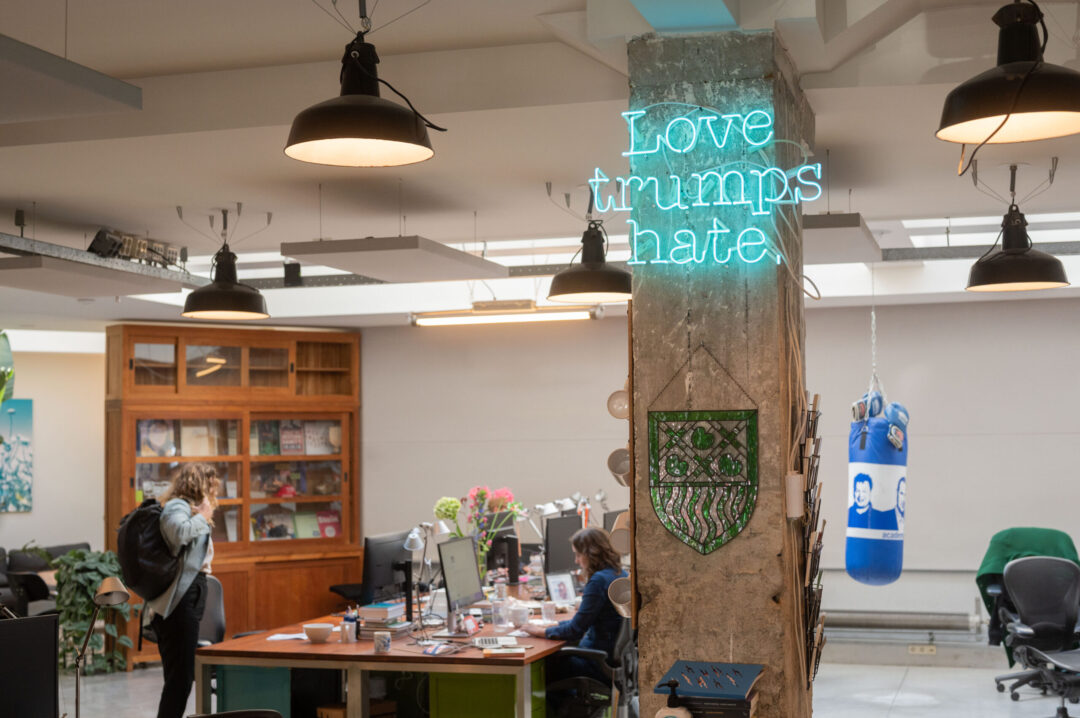 BKB develops campaigns for governments, private companies and public organizations. From our office in Amsterdam we raise issues that we consider important, ranging from refugee matters to equal opportunity in education, from sustainable banking to the importance of open data, and from veterans to work-related stress. For our clients and on our own initiative. We do this by conducting research, via strategy and message development, and by generating free publicity, organizing conferences and grassroots, developing social media strategies, and developing content.
For over 19 years, we have been sharing our expertise with upcoming talent. In the Netherlands, we do this by means of the BKB Academy. We also organize campaign training courses for political parties worldwide. This allows us to keep in step with the spirit of the times and to establish innovative correlations between politics, business life, science, sports, culture and media.
Currently, 25 politically and socially engaged, driven and curious people work at BKB, each with his/her own background, expertise and skills. We believe that a diverse team is essential to creating a greater understanding of socially-relevant themes and to be able to communicate this well. Click here for our profiles.
The BKB Method
Hinging on the view that the political campaign is the mother of all campaigns, and pooling the experiences gained during several national political campaigns, in 1999 Lennart Booij, Alex Klusman and Erik van Bruggen drew up a business plan for the Booij, Klusman and Van Bruggen company. Quite a feat, as the goal is to earn the confidence of the most diverse target group imaginable (the entire population of a country) on a range of highly complex issues (society in all its complexity). And that trust is something that many predecessors have devalued. This job needs to be done under demanding time constraints, on a playing field that's volatile and tricky to navigate - there's next to no room for mistakes in today's social media landscape - and with a budget that often seems to be insufficient.
Social organizations, businesses, NGOs and government organizations are also facing these challenges, and are in need of an engaging story, message or concept that functions as the guiding principle of the campaign. A story or concept that breaks down barriers, uncovers ambitions and showcases novel perspectives. And in order to have this message resonate with that extremely diverse target group, it needs to be repeated constantly on as many channels and in as many ways as possible. This calls for a rock-solid strategy and an ironclad discipline.
And that just happens to be the thing that really gets us going. Dream out loud! These are the pillars of the company that today is known as BKB | Het Campagnebureau and is owned by founder Alex Klusman, Maarten van Heems (since 2010), Bianca Pander, Isabelle Rade (since 2013), Bram Festen (since 2019) en Justin Koornneef (since 2019).
Founder Erik van Bruggen passed away on February 14, 2020. His motto "Dream out loud!" still lives on in BKB.
Curious? Don't hesitate to drop us a line at [email protected], give us call on +31 (0) 20 520 5280 or swing by our office in Amsterdam.